The History
and beginnings of domo
Domo originated from the former Dominion Motors car dealership, which was located at Fort and Graham in downtown Winnipeg. Dominion Motors, owned by the Everett Family, was Canada's largest Ford Dealership and in the early years was run by Horace Everett, father of Senator Everett.
DOMO was incorporated in 1958.
But it wasn't until 1970 that Domo started to expand in its current format. It was Senator Everett who had the idea of building a chain of gas stations under the name of Dominion Gas. He approached Safeway stores with the idea of putting gas kiosks on the front of their parking lots – in areas used mainly by pirate parkers (instead of Safeway's legitimate customers). The people at Safeway liked the idea and agreed to test it at three of their Winnipeg locations – Ellice, Pembina and Ferry Road. The first Domo stores were built to look like miniature replicas of the Safeway stores that existed at that time.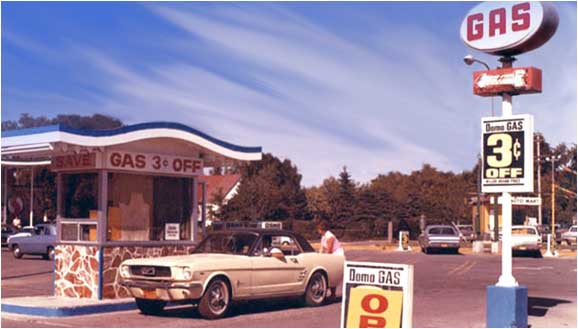 1970
The First Domo stores were built to look like miniature replicas of the Safeway stores that existed at the time.
There was one small hitch... Dominion was the name of one of Safeway's main competitors in the food business so the gas stations had to be re-named if they were going to sit on Safeway property. Thus, the name DO-MO was born - short for Dominion Motors - "DOMO".
When Senator Everett decided to expand the gasoline business, he was going to do things differently than most of the independent gasoline retailers operating at that time. So he laid out a set of principles to be followed:
Domo would build its stores only on first class sites in convenient locations where there was strong retail backup.
Domo stores would be designed to be architecturally attractive and would be kept manicured and sparkling clean at all times.
Domo stores would be staffed by bright, friendly uniformed attendants who would provide Guests with the best service in the industry.
Domo would sell top quality gasoline and would always offer high quality premium merchandise at every location.
Domo would keep its costs low and pass the savings on to its guests in the form of discounts right at the pump.
By 1976 Domo was ready to expand into Western Canada. Edmonton was the first city for this expansion, and in February of that year, Domo opened its first two stores there – 66 Street Safeway and Fields. We currently operate 15 stores in Edmonton.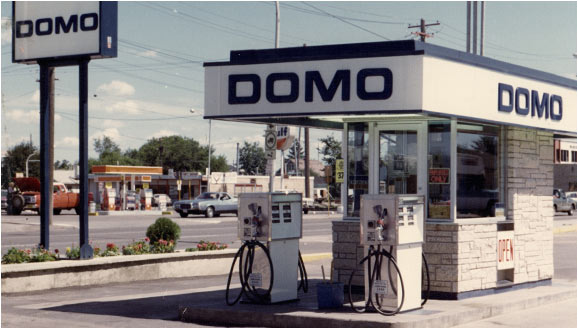 1980
In 1980 we took over the gas bar at the Dominion Motors Vancouver Dealership, and by 1984 we built our Richmond store. We now have 3 stores in Vancouver.
In 1984, the first two Calgary stores were opened on Zeller's sites –- Huntington Hills and Forest Lawn. Calgary then expanded to its present 4 stores.
It wasn't until 1986 that we moved in Saskatchewan, and opened our first gas bar in Saskatoon, and in 1988, we opened our first store in Regina. Saskatoon now has 2 stores and Regina has 2 stores.
Domo also has a fast growing network of dealer operated sites throughout Manitoba, Saskatchewan and Alberta. Domo also supplies First Canadian Fuel sites along with co-branded First Canadian Fuels and Domo stores.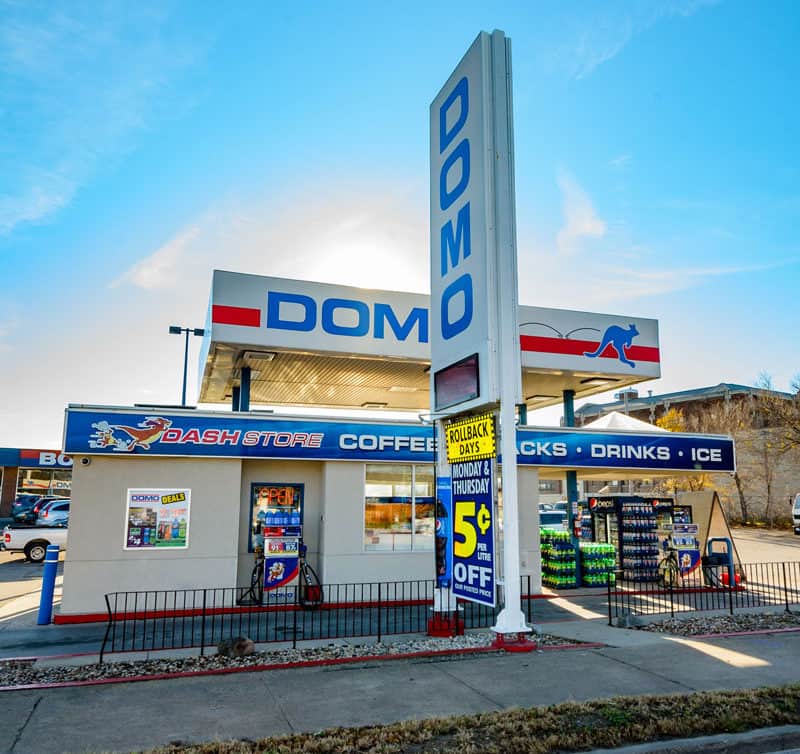 Today
In total, Domo operates or supplies over 100 sites across Western Canada. Domo Gasoline Corporation Ltd. is a Manitoba based company with its head office in Winnipeg at 270 Fort Street.